Citronella Essential Oil
Citronella Essential Oil
Citronella Essential Oil is an essential oil produced from lemongrass. It is commonly used in perfumes and room fresheners. It is a herbal oil which is used for aromatherapy and helps in reducing the stress levels. Citronella can be used in a scented candle, insect-repellent, perfumes, room fresheners, roll-on balms and many more.
There is a rise in the use of Citronella oil since all insect repellent companies are using Citronelle as the key ingredient product to repel mosquitoes, bugs and many more. Due to the fresh aroma and its organic ingredients there are no side effects from the oil.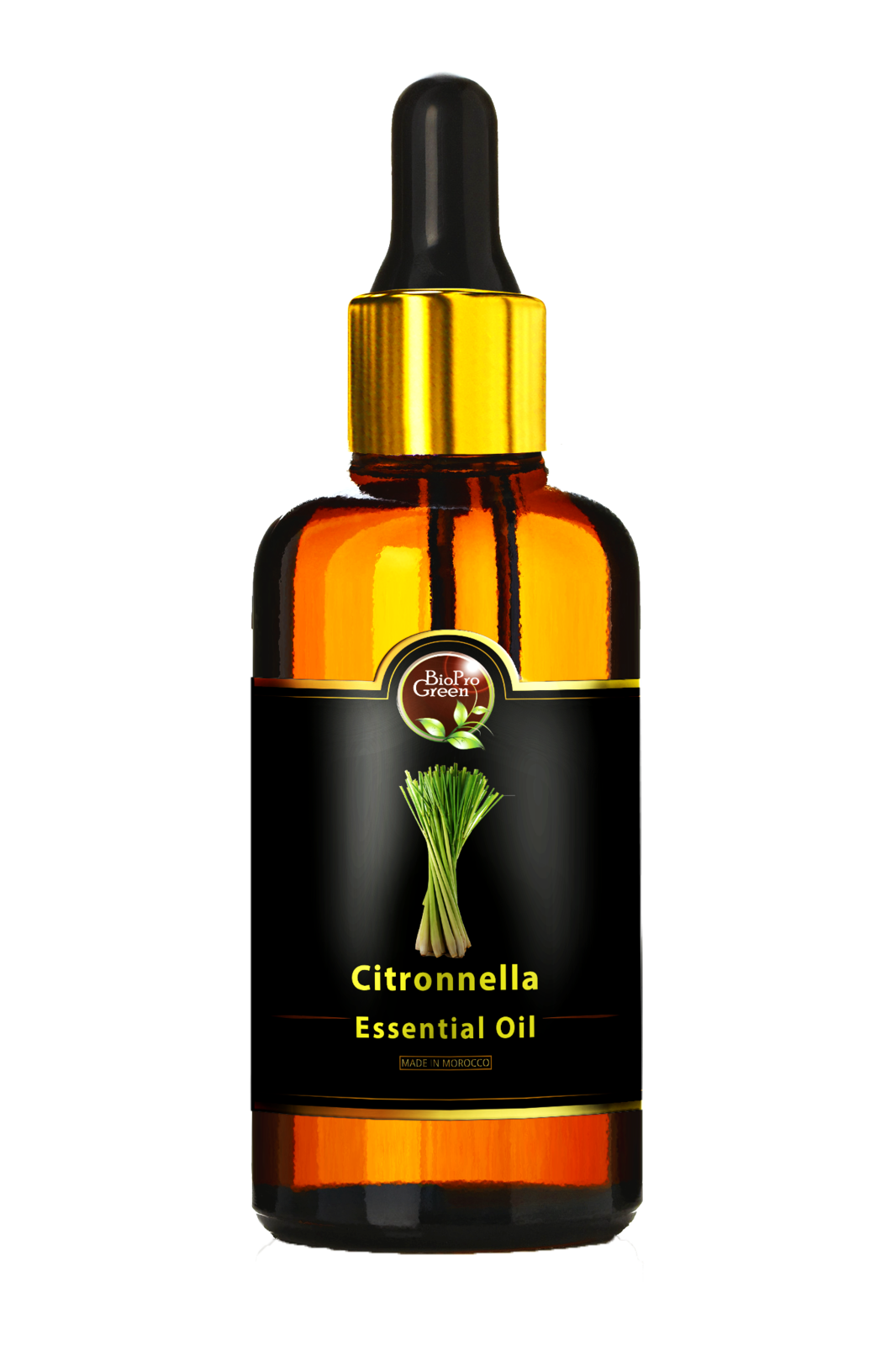 BioProGreen Morrocco is a company specializing in the production and export of organic cosmetics like Argan oil, essentials and vegetable oils, black soap, natural soap, clay, kassa glove, floral water and many more. We export our products worldwide and sell in bulk, for the minimum order quantity of 1L per product and pack minimum 50 pieces order quantity.
We offer all types of packaging, Glass, Aluminum, Plastic and Handmade for 10ml/g. 30ml/g and 100ml/g containers. We also provide private labelling consulted by our design team in the company, which will help you create your own brand (with the minimum order of 100 pieces). And for the purchase of products above 200 pieces, we also provide a quantity discount.
Benefits:
People who suffer from frequent migraines and people who have low immune system add lemongrass to their tea or herbal infusion.
Due to Citronella oil's antiseptic ingredients, digesting the oil will help in increasing the immune system, it may reduce the frequency of migraines and helps in reducing stress and anxiety.
The strong scent from the lemongrass might be a beautiful aroma for human beings, but animals don't have the strength to go near a person who wears citronella in their perfume. Hence it is used in perfumes as well as insect repellent.
How to use:
You can add Citronella oil in a roll-on balm and dab it on the tip of your clothes, it will help you keep the insects away. Since the oil can be washed away with detergent you don't have to worry about damaging your clothes.
While making scented candles, perfumes or room freshener, you can add Citronelle oil to it; a lot of companies who produce aroma diffusers are also selling Citronella oil along with the diffuser.
You can also add citronella oil in petroleum jelly as it is known for antiseptic ingredients, this mixture can also be used as a homemade perfume as it lasts longer than water-based perfumes.
company information 
BioProGreen
N°200 Lot Elmassar,Zone industrielle SidiGhanem
Route de Safi
40 000 Marrakech,
Tél:  +212664511976
Fax: +212524457961
Mobile/WhatsApp/Viber:  +212 664 511 976
Service clients: +212 524 335 449
E-mail: contact@bioprogreen.com
site web:http://www.bioprogreen.com/